OUR STORY
Angelo's Burgers first opened in 1978, and now has 4 locations in Oceanside and Encinitas. Tony Regakis started it, and now he and his whole family run the restaurants.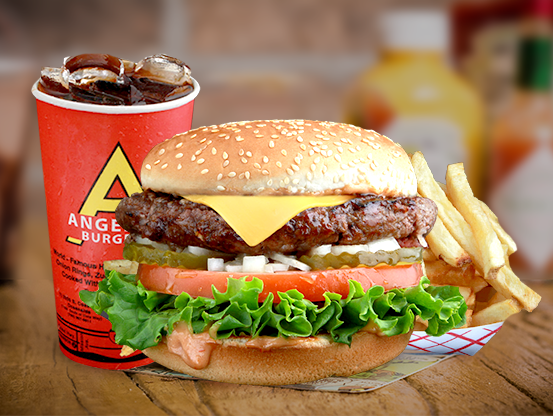 ABOUT&nbsp ANGELO'S&nbsp BURGERS
Angelo's Burgers is a true family run business. Tony opened the first location in 1978 and now there are four locations along Coast Highway. Tony runs Oceanside North by the Pier, while his son Louie runs Oceanside South, and his daughter Athena runs Oceanside Central. You can find them there on most days, pouring beers and cooking all the delicious food from the giant menu. It's that family atmosphere that that has made Angelo's an Oceanside staple.
BRINGING
YOU THE BEST
BURGERS

At Angelo's Burgers, everything is made fresh to order. We source the finest and freshest ingredients for all of our food. We have a variety of burgers ranging from bacon cheeseburgers, avocado burgers, pastrami burgers, turkey burgers and even veggie burgers! Make your meal a combo by adding our fresh hand-cut fries, or our hand-cut/hand-battered  homemade zucchini fries or onion rings. We promise you won't be disappointed! 

It's not just burgers at Angelo's. We have a wide variety of Mexican dishes like hueveros rancheros, tacos, taquitos, carne aside fries and burritos. Not in the mood for Mexican? Try our Greek salad or our gyro sandwich, which is cut fresh from the spit and topped with our homemade tzatziki sauce.  If you want something on the lighter side, try one of our many salads made fresh daily or perhaps an Acai bowl or avocado toast. With breakfast, lunch and dinner being served all day, everyday, we promise you will find something to eat. What will you order?
VISIT US AT YOUR
NEAREST LOCATION
OUR&nbsp HISTORY
Angelo's Burgers is real "Made in America" story. After many years in the Greek Navy as an officer and then chef, Tony immigrated to America and spent 10 years in Los Angeles working in the restaurant business. One weekend he decided to drive south and happened to stumble on Oceanside. He fell in love with the coastal city because of it's laid back vibe that reminded him of his home in Crete, but also because it was close to the Marine Base of Camp Pendleton. He then decided to leave LA and open a location in Oside.  Since 1978 Angelo's has grown to several locations, and continues to be a family run Oside staple serving the best fast casuals meals around.